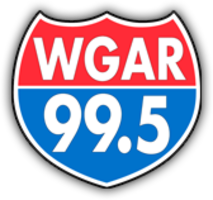 Cleveland's #1 For New Country
Cleveland's exclusive Country Music station is WGAR!
Slightly more female than male, WGAR's listeners pack Blossom Music Center each summer, cheering on their favorite country artists. Extremely loyal in nature, country listeners love Brian and LeeAnn in the morning, Shotgun Taylor in mid-days and Kat Jackson for the drive home. In the evening, The Bobby Bones shows delivers an A+ guest list and entertaining talk, surrounded by the best music coming out of Nashville.
WGAR supports St. Jude Hospital for Children, with the annual St. Jude Radiothon, as well as Guitars for Girls, an intimate unplugged concert featuring well known country artists benefiting The Susan G. Komen Foundation. Their signature event, The WGAR Country Jam, is a listener appreciation day of entertainment that has been going strong for over 20 years!
Call Letters: WGAR
Format: COUNTRY
Dial Position : 99.5 FM
Brand: 99.5 WGAR
Target Listener: A 25-54